One of my favorite things to do in the kitchen is recreate recipes I grew up on. I love reinventing the meals my adolescent self enjoyed into dishes my adult health conscious self loves just as much, if not more. Divan style casseroles are one of those dishes. I mean, who doesn't love chicken or turkey slathered in broccoli and cheese? Robin, my stepmom, would make a chicken and broccoli divan casserole a few times a month. It was my absolute favorite! During my stint as a vegetarian she even made me my own meat-free version. It was essentially just a thickened up broccoli and cheese soup, but I LOVED IT. I think what I loved most about Robin's divan was the curry flavor. Did I mention I love curry?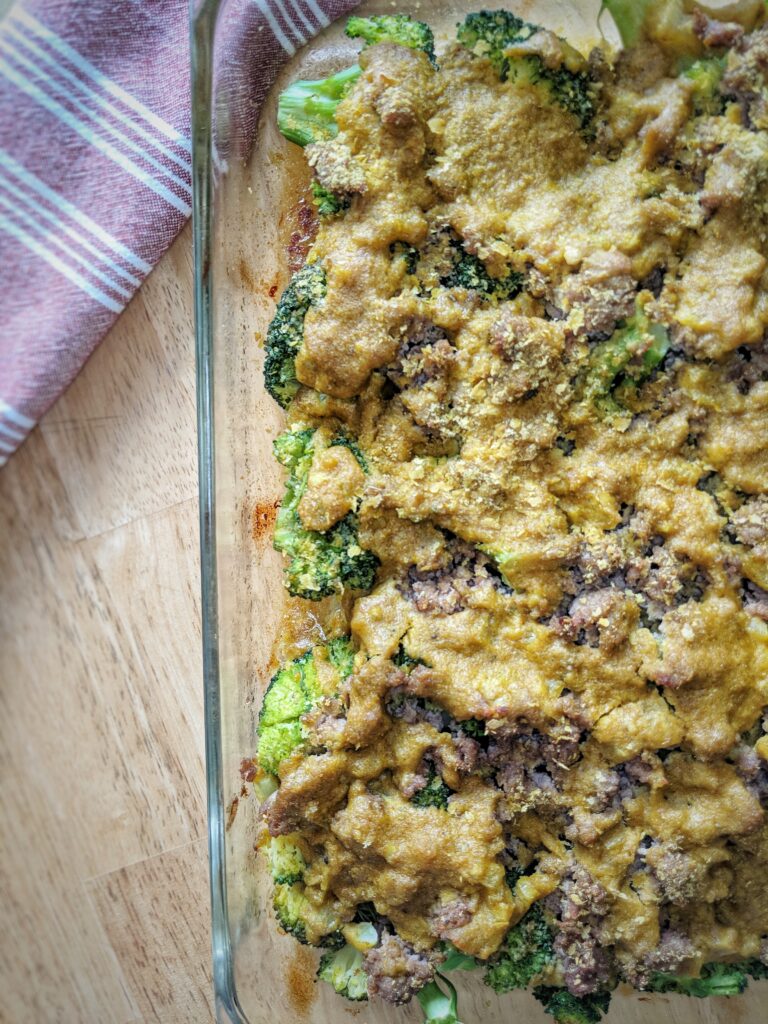 What Is A Divan Style Casserole?
Traditionally, divan style casseroles are loaded with cheese, cream-of-something soup and more cheese, so when I set out to make a dairy-free Paleo version, I knew I was up for a challenge. My version features a made-from-scratch dairy-free cheese-ish sauce that does a great job of mimicking the real thing. Aside from swapping out the dairy products, this recipe is adapted from Robin's naturally gluten-free recipe. I'M SO GLAD IT WORKED because I really missed the original. Now would be a good time to mention it's also Whole30 compliant and Keto-friendly!
I'll let the detailed recipe below do most of the talking, but I would like to make a few quick notes.
Just a Few Notes About the Ingredients
You could use frozen broccoli, but frozen broccoli never tastes as good as fresh. Never ever.
The ground turkey could totally be swapped out for ground chicken or even leftover turkey or chicken (this would be a great dish to use up leftover Thanksgiving turkey).
If you're not into the whole dairy-free thing, the ghee and nutritional yeast can easily be swapped for their dairy-containing counterparts (butter and cheese). I think you should give the dairy-free version a shot though. I'm telling you, it's just as satisfying.
Store-bought Paleo mayonnaise can break the bank, so I always make my own! I've tried a few homemade mayonnaise recipes, and they've all pretty much resulted in a good creamy mayo. You really can't go wrong. Just find one you like and stick with it! PS: when making homemade mayo, be sure to use light tasting olive oil or avocado oil (EVOO is a big "no no").
You guys. This casserole is good. Like really good. My best friend stopped over while I was recipe testing, and she gave it her stamp of approval. After I snapped a few photos, we sat at my kitchen table and ate the entire dish (NO REGRETS). It's elegant enough to serve to guests and rustic enough to eat right out of the casserole dish (right, Caitlin?). It's even better over a bed of cauliflower rice!
This is definitely a recipe you're going to want to hang on to. Hover over any of the images on this post to pin the recipe for later, or better yet - make it RIGHT NOW! I hope this one satisfies your soul as much as it does mine. Check out the detailed instructions below! Feel free to leave a rating or comment about what you think (be honest!) -and as always, use the hashtag #paleoishkristaeats for your recipe recreations! This is one of my favorite casseroles of all time, and I'm super excited to share it with you! Enjoy!
PIN NOW! MAKE LATER!
Paleo Turkey and Broccoli Divan Casserole
This gluten-free, dairy-free reinvention of a classic divan style casserole uses ground turkey, a made-from-scratch creamy "cheese" sauce and plenty of veggies to create a dish just as comforting and delectable as the original.
Print
Pin
Rate
Ingredients
2

large heads of

broccoli

chopped

1

small

yellow onion

diced

4

cloves

garlic

minced

1

tablespoon

olive oil

+ 2 teaspoons

1

pound

ground turkey

1

tablespoon

ghee

2

tablespoons

coconut flour

1

cup

beef or chicken bone broth

½

cup

Paleo mayonnaise

2

tablespoons

curry powder

¼

cup

nutritional yeast

+ 2 tablespoons

salt

pepper
Instructions
Preheat oven to 350 degrees. Bring a large pot of salted water to a rolling boil.

Prep vegetables. Chop broccoli heads into bite size florets. Dice the onion. Mince the garlic.

Add the chopped broccoli to the pot of boiling water. Boil for 3 minutes. Remove from the pot and rinse under cold water to stop the cooking process. Drain and set aside.

In a large pan, heat 1 tablespoon olive oil over medium heat. Add ground turkey to the pan. Season with salt and pepper and cook (breaking up pieces) until almost cooked through (about 5 minutes). Remove from pan and set aside. Do not clean the pan.

In the same pan, heat 1 tablespoon of ghee and 2 teaspoons of olive oil until hot but not smoking. Add the onions and garlic. Cook until fragrant (about 2 minutes).
Sprinkle with coconut flour and stir.

Stir in bone broth, mayonnaise and curry powder. Season with salt & pepper. Bring sauce to a simmer, stirring frequently until smooth (about 5 minutes). Remove from heat. Stir in ¼ cup of the nutritional yeast until smooth.

In a greased casserole dish, layer the casserole in the following order - broccoli, ½ of the sauce, ground turkey, the remaining sauce, and then sprinkle the top with 2 tablespoons of nutritional yeast.

Bake for 30 minutes at 350 degrees. Serve hot.
Notes
Ground chicken or leftover roast chicken or turkey would work great in place of the ground turkey.
If you can tolerate dairy, butter can be used in place of the ghee and shredded cheddar cheese can be used in place of the nutritional yeast.
This casserole is great served with cauliflower rice or white rice (if not following a grain-free diet).
Nutrition